4th Fridays, 7:00 p.m. – 11:00 p.m. $20
Click here to RSVP and pay via credit card
Drop-in for all or a little. Leave with art you made!
It is like Kindergarten for adults! Great way to start your weekend, I will have materials set out and you can come play, meet new people, meet up with your friends, enjoy conversation or just relax.
Play with paint, collage, sand trays, music, karaoke, poetry, doodling, and more! Drinks by donation. Light munchies.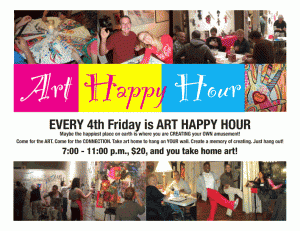 Art Happy Hour an ultimate Expressive Arts play experience for adults!